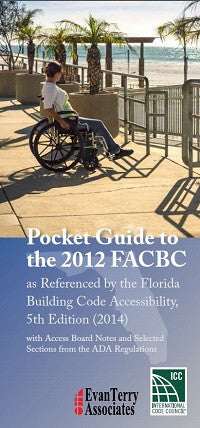 Pocket Guide to the 2012 FACBC (Florida)
$ 29.95
Evan Terry Associates & Corada are pleased to announce a partnership with the International Code Council (ICC)! ICC will be publishing our well-known Pocket Guides and fulfilling all book orders.
This publication is available in two formats: PDF Download and Spiral-Bound Book
About the PDF Download Version: We recommend using the most recent Adobe DC PDF reader on your tablet and smartphone to take advantage of the dynamic new features this electronic version contains. The pdf file format allows you to carry this book on your smartphone, iPad or tablet computer, and to use it from your desktop on one under the same license. Please note that this license is for one individual user only. In addition to improved 'searchability' of the PDF version of the Pocket Guide, this electronic version also includes hyperlinks straight into Corada for more information about each section of the Florida Accessibility Standards. When you have an internet connection, you may click on the [more info...] links in the PDF to find relevant documents, products, how-to videos, Corada Voices discussions, upcoming events and more! Click here for a quick guide to buying and downloading the PDF version from ICC.
About the Spiral-Bound Version: The spiral bound pocket-sized format makes this book easy to use on your desktop and to carry into the field. It's an essential reference book for everyone with FACBC and ADA facility compliance responsibilities. The book measures 4.5" x 8" including the spiral.
This ETA Pocket Guide to the 2012 FACBC is the latest publication in their 24 year history of providing trusted references to ADA and state accessibility requirements for design professionals, contractors, building officials, facility managers, and others who need to understand their facility-related access obligations. This book includes not only the accessibility portions of the 2014 Florida Building Code, but also selected sections of the federal regulations that are most relevant to the design and construction of facilities.
ETA has also included Editor's Notes to help explain more difficult sections of the rules and to notify readers of how certain sections of the Standards are being interpreted.
Click the link above to purchase or call (800) 786-4452 to reach the sales department at ICC.