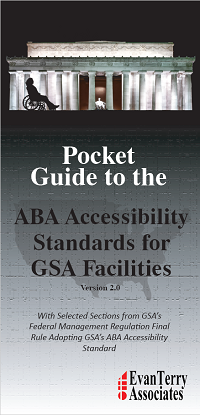 Pocket Guide to the ABA Accessibility Standards for GSA Facilities, v. 2.0
$ 20.00
This publication is available in two formats: PDF Download and Spiral-Bound Book
About the PDF Download Version: We recommend using the most recent Adobe DC PDF reader on your tablet and smartphone to take advantage of the dynamic new features this electronic version contains. The pdf file format allows you to carry this book on your smartphone, iPad or tablet computer, and to use it from your desktop on one under the same license. Please note that this license is for one individual user only. In addition to improved 'searchability' of the PDF version of the Pocket Guide, this electronic version also includes hyperlinks straight into Corada for more information about each section of the ABA Standards. When you have an internet connection, you may click on the [more info...] links in the PDF to find relevant documents, products, how-to videos, Corada Voices discussions, upcoming events and more! This digital download is a PDF e-book. Once purchased, you will receive an email from 'SendOwl Downloads' with the link to download the document.
About the Spiral-Bound Version: The spiral bound pocket-sized format makes this book easy to use on your desktop and to carry into the field. The book measures 4.5" x 8" including the spiral.
This ABA Pocket Guide includes the ABA Accessibility Standards for General Service Administration (GSA) facilities with selected sections from GSA's Federal Management Regulation Final Rule adopting the Standard. This pocket guide also includes advisory notes from the U.S. Department of Justice and the U.S. Access Board; as well as Editor's Notes from Evan Terry Associates where the editors believed that further clarification would be helpful. For your convenience, this pocket guide provides references to prior sections of the Uniform Federal Accessibility Standards (UFAS) where those provisions are less restrictive than the comparable current ABA Standards requirements. Unaltered elements in existing facilities that complied with the prior standards may remain until they are altered for other reasons.
Are you a member of APA, NAADAC, or CASI? Be sure to contact your membership coordinator for information to receive a free or discounted pocket guide!