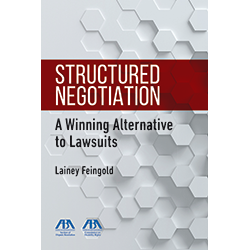 Structured Negotiation: A Winning Alternative to Lawsuits by Lainey Feingold
$ 42.95
Without lawsuits, Structured Negotiation has led to settlement agreements with Bank of America, Walmart, CVS, Major League Baseball, Anthem, Weight Watchers, and a host of other organizations. Settlements with the City and County of San Francisco, Houston's Metropolitan Transit Authority, and Massachusetts General Hospital demonstrate the process is also a viable litigation alternative for disputes in the non-profit and public sector.
Lawsuits play an important role in moving society forward. But the legal profession — and the public it serves — deserve less costly, less stressful, and more cooperative alternatives. Clients need a forum where stories matter and they can feel heard. Would-be defendants need a process that allows them to do the right thing without having to first prove there is no problem to begin with.
Readers will learn:
How to write an opening letter that invites participation;
How to establish ground rules;
How to hold collaborative meetings and bring in experts without discovery battles;
How to give clients a meaningful role that respects their expertise and builds relationships.
The book can be purchased from the American Bar Association. Use coupon code LFLEGAL10 to receive 10% off the purchase price.
Related Products